Ever heard of this? You soon will when it comes out the next few months. Ouya (read as ooo-yah) is an Android based console designed to be placed in the living room. It is primarily to be used for playing games but you can also use it for other purposes like playing videos or watching movies. What's different?
This console was one of the highest grossing

Kickstarters

ever from last year. (For those who don't know, kickstarter is a website where people donate money to developers or aspiring business folks who "promise" a product. Or read here for more). It reached its goal within 8 hours and raised approximately close to $4 million during the first 2 days of it being on kickstarter.
Under the hood, this machine is running on Android Jellybean 4.1. I would think that the team will constantly update this as new versions come out. NVidia's Tegra 3 will be gracing the system coupled with a 1.7GHz Quad Core ARM Cortex A9, and 1 GB Ram. Just for reference, the Galaxy S3, S4 and Iphone 5 have 1.4GHz, 1.6GHz and 1.4GHz respectively. But don't expect comparable results since this thing runs on a power outlet whereas phones run on battery, so developers for this device will not need to think about battery when designing their apps.
But here's where it gets really good: Ports! The system will have:
1 HDMI port which you can output to the TV/Monitors

1 USB port (which means you can plug in your external HDDs)

1 MicroUSB which you use to plug to your PC to load drivers/files, etc

1 Ethernet port! Network games please!!! imagine LAN parties but you can fit your PC in your pocket.

Wifi/Bluetooth!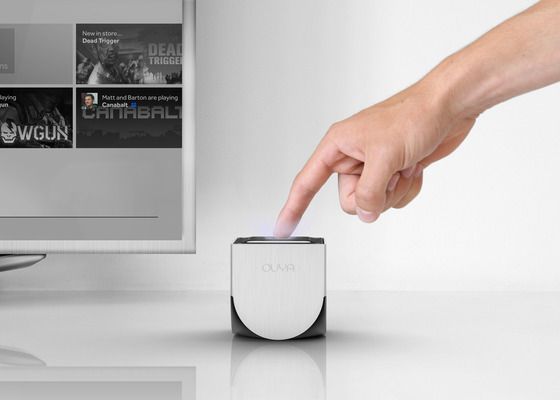 This thing is small. You can bring it wherever you go
It's supposed to have its own version of the Google Play store.
I paid $130 in advance for the entire package (which includes the console, 2 controllers (with touch screen) and shipping) which is not a bad investment to satisfy my curiosity. This thing ships out to people who purchased via Kickstarter this Thursday (Mar 28). I hope to get my hands on it by next month.