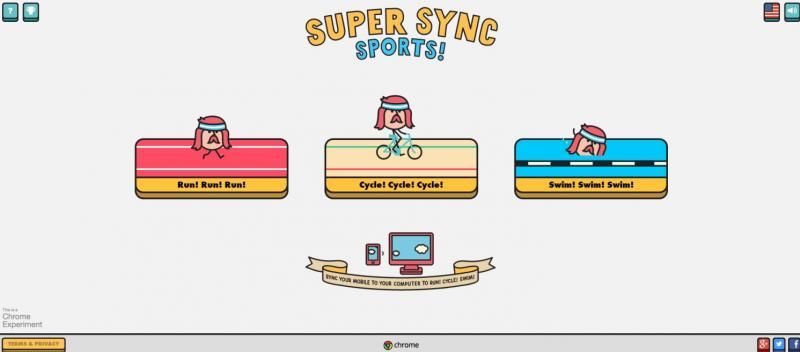 Google always comes up with these very innovative and quirky stuff to shake things up within their scope of influence which is the PC/Mobile space. The latest they bring to the table is Super Sync Sports. This is a game where you run on your PC using your Chrome browser. What makes it different is that up to 4 players can play the game by syncing their mobile devices whether the Androids (on at least 4.0 Jellybean), or your iPads (on at least 4.3), as long as it runs Chrome.
There are 3 mini games included in the site. A running game, a swimming game and a cycling game. The mechanics are the same for all 3, you use your phone as the controller and you make a running motion using your 2 fingers and the action translates on the PC screen. This is all done via WiFi so there is sometimes a little bit of lag. But from what I've played, it's pretty acceptable.
In terms of gameplay, it's nothing to write home about. You start a race, you run and then someone wins. Each game takes around 30-45 seconds. What's interesting here is how Google is starting to integrate phones and PC in real time.
You may argue that this tech has been here in some way today, but I will tell you how I think this is different:
Direct connection. You log on using your phone and your PC and it sees each other in a few seconds. The others I've seen requires you to jump through several hoops before you can do this.

Low lag. I don't have a good connection. This opens up some interesting possibilities for applications that need to communicate under low latency.
Overall, as I mentioned, this is proof of concept for things to come. I certainly hope they take this tech and apply it to something more fun.
Character Select View on the desktop
Character Select View on the phone
Actual Race View on the Desktop
Actual Race View on the Phone